Welcome to the Millennium Farms website.

Our motto is: "Where flavor comes first."
Here you can find vegetables, herbs and fruits like you remember from your family's garden years ago. We've been growing here in the Northwest for over 20 years, and know which varieties of vegetables, herbs, greens and fruit do best year-in and year-out in the Greater Vancouver/Portland area. Instead of too many varieties to chose from, we have filtered our lists so you benefit from our experience on which variety for each type of plant to grow! Even so, we have over 100 varieties of tomatoes and peppers alone, among our over 500 varieties of plants, and each are best in this area for a particular use.
Check out our new Facebook page:
Winter/Spring 2017 YOU-CHOOSE CSAs
Besides being a Plant Nursery in the Spring, Millennium Farms is also a FARM YEAR-ROUND, and Southwest Washington's FIRST AND PREMIER FARM-TO-TABLE SOURCE. We grow healthy food, both for restaurants, companies and institutions, offered through our 6 day-a-week delivery program, and for individuals through our novel YOU CHOOSE CSA PROGRAM which is available for subscription. We have a few more openings for the WINTER/SPRING 2017 CSA, so SEE THE 2017 CSA PAGE and email us for more info and/or the sign-up form.

Nursery Is Now Closed for the Season, Will Reopen This March 2017.
The nursery will re-open the same days the Farmer's Market re-opens in March, on March 18, 19 and March 25,26 but only for those weekend days. Then, starting Saturday April 1, we will again be open 7 days a week M-F 12-5; Sat-Sun 10-3. Our booth at Vancouver Farmer's Market will be open Sat 9-3 and Sun 10-3; both locations from 4/1/17 to 5/28/17.
2017 Home and Garden Idea Fair
We will again have our large booth at the usual location at the 26th annual Home and Garden Idea Fair at the Clark County Fairgrounds April 28, 29 and 30. 9-6 Fri & Sat, 10-5 Sun. Our nursery will also be open those days with our regular hours there 12-5 Fri, and 10-3 Sat Sun.
Nursery News
The Ultra-hot Peppers are available at the Farm. 6 month, 1 year and some 2 year old plants are available. PEPPERS FOR 2016 include 9 OF THE WORLD'S 10 HOTTEST PEPPERS, and some of them in 1, 2 and even 3 gallon sizes! Check out the 2016 List!
This season we have THREE NEW TOMATOES TO OFFER: the Genuwine, the Pineapple Pig and the Indigo Cherry Drop, each a notable addition and good performer. The Genuwine is a modern cross of the venerable Costoluto Genovese and the Red Brandywine, making a superb red sauce and slicing tomato. The Pineapple Pig is a modern cross of the #1 tasting Pineapple tomato and another large beefsteak, the Great White, to make a huge 3lb+ and possibly even better tasting beefsteak tomato. The third tomato is the Indigo Cherry Drop - similar to the recent new Indigo tomato from OSU, but in a cherry tomato style, and from our tests, better producing and tasting.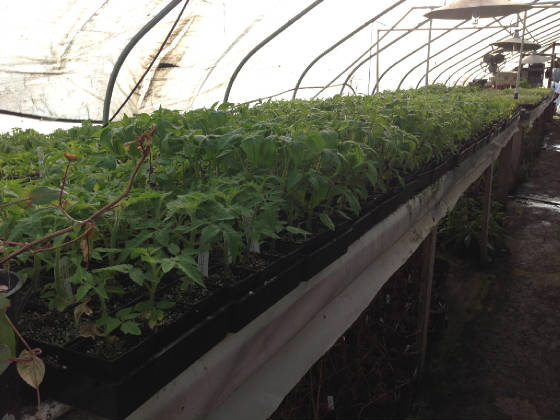 As big as they've ever been this early!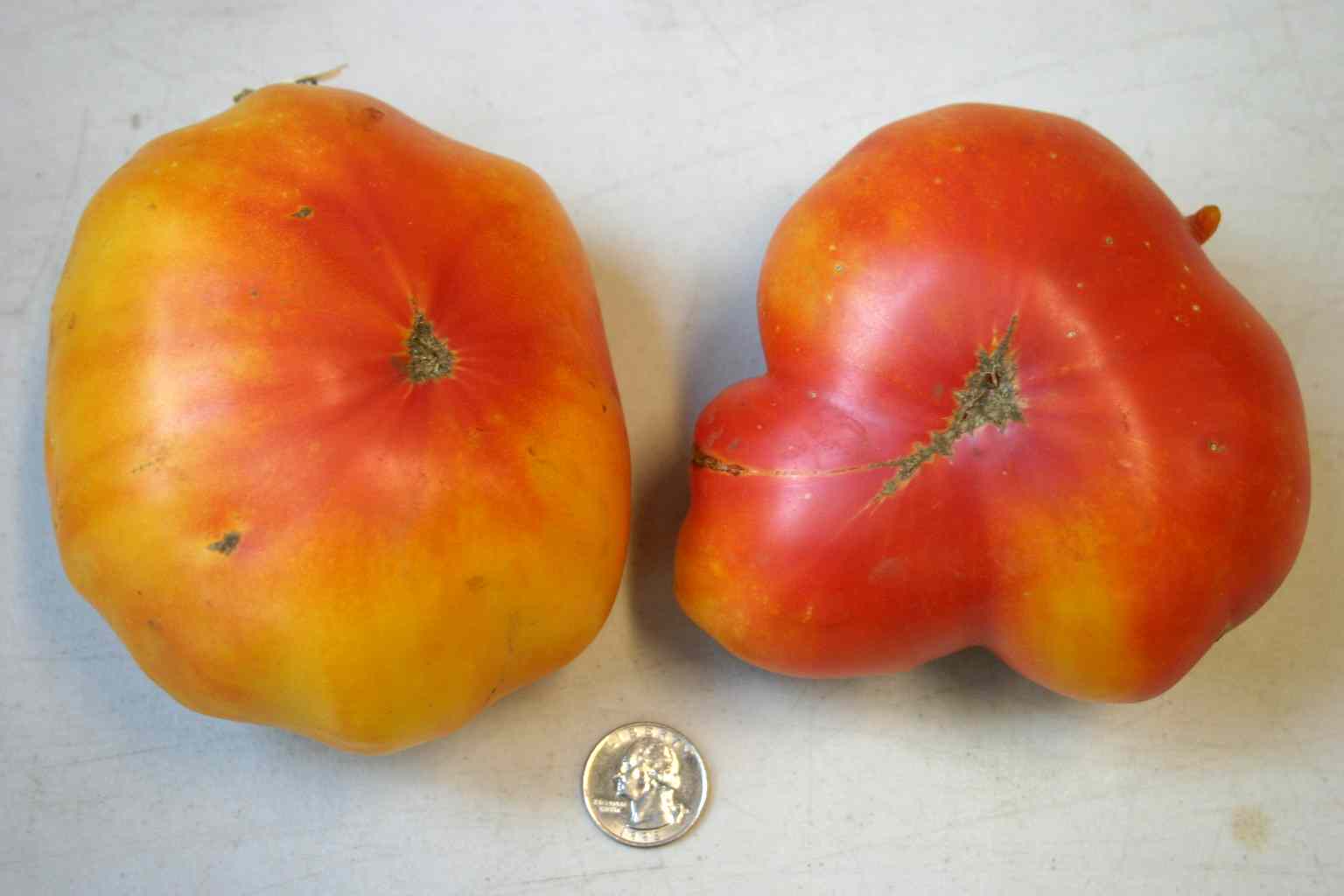 The back to back winner of the West Coast's largest tomato taste contest. In 2004 AND 2005 the classic heirloom tomato Pineapple won Territorial Seeds' Tomato Tasteoff, which is a double-blind taste where the judges cannot see nor ask questions about the tomatos they sample. It's strictly won on flavor and Pineapple won it two years running; a feat unlikely ever to happen again. Yes they really are that big, and have that ohmigosh flavor...Old German is thought to be a related heirloom tomato, as it is a red base with yellow and orange versus the yellow base with red and orange of the Pineapple...both stellar tomatoes!
Some folks don't believe how much our plants grow. Below are some photos from Tom Lipman in Hillsdale which will show you how fast (and how big) they grow... Thanks a lot Tom! And take a look at the last photo...all of that in JUST ONE DAY'S harvest!