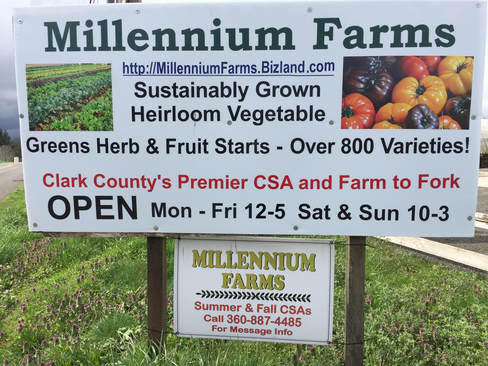 Welcome to the Millennium Farms website.

Here you can find vegetables, herbs and fruits like you remember from your family's garden years ago. Our motto is: "Where flavor comes first."11/30/18: We have a few slots left for our Winter-Spring Weekly Produce program. See the 2019 Weekly Produce Program webpage for info. If you want to enjoy fresh, local and seasonal produce, our program is like Farmer's Market comes to you -
you choose
which of the wonderfully fresh kinds of heirloom vegetables, fruit, greens and herbs you will enjoy that week, delivered to your pick-up location! We've been growing here in the Northwest for over 20 years, and know which varieties of vegetables, herbs, greens and fruit do best year-in and year-out in the Greater Vancouver/Portland area. Instead of too many varieties to chose from, we have simplified our lists so you benefit from our experience on which variety for each type of plant to grow! We have over 115 varieties of tomatoes and peppers alone, among our over 440 LISTED on this website varieties of plants, but each are best in this area for its particular use.Millennium Farms is also a farm, and Southwest Washington's first and premier Farm to Table grower and provider, both for individuals through our novel U-Choose Pick 6 Weekly Produce Program and for restaurants through our 6 day a week delivery program. For the WEEKLY PRODUCE PROGRAM see the 2019 Weekly Produce Produce CSA page; for restaurants and commercial accounts see the RESTAURANT PRODUCE AVAILABILITY page.3/29/18 UpdateIt's Time to Plant the Best Berries, Even Pink Blueberries!Our best selection ever, 14 types of Blueberries, 7 of Blackberries, 5 of Raspberries and 3 of Currants. New, compellingly-tasty Blueberry varieties are Pink Popcorn, Pink Lemonade for tasty pink berries, Razz with overtones of raspberry flavor and Sweetheart which gives two crops a season!
​
​
2/17/18 Update
We have 24 Ultra-Hot Pepper varieties this year, the most in the region. Some 6 month, 1 year and 2 year old Ultra-Hot plants will be available. We also have 4 types of the compelling Hatch Chile peppers (superb roasted!), from mild to scorching.
We have 3 new outstanding Tomatoes: Beaverlodge Slicer, Mark Twain for prolific tasty red tomatoes; and Chef's Choice Yellow, joining the Chef's Choice Orange, Yellow and Green, added last year, all excellent producing / flavored beefsteaks.
The nursery will reopen this coming March 31, 2018.
Nursery hours will be
M-F 12-5;
Sat-Sun 10-3 from 3/31 to 5/28/18.
Our
booth at Vancouver Farmer's Market
, just west of the Slocum House on Esther St., will be open
Sat 9-3 and Sun 10-3; from 3/31/18 to 4/22/18 and 5/5/18 to 5/27/18
. Come see us at the 2018 Home and Garden Idea fair at the Clark County Fairgrounds 4/27-4/29.
Check out our Facebook page:
https://www.facebook.com/Millennium-Farms-161410847323790/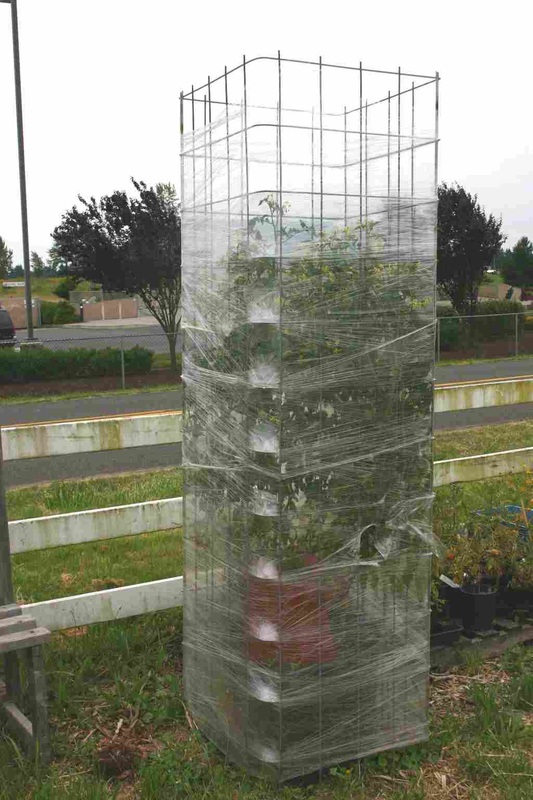 Want to grow your tomatoes 100% faster? This Sungold went from 6 inches to 6 feet tall in 7 weeks inside The Tomato Machine. See our Planting Tips and Supplies pages for more info.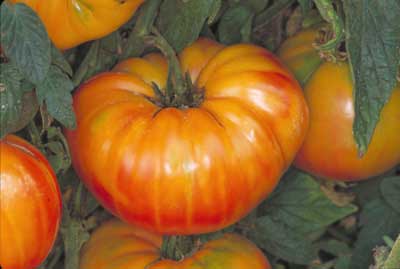 This tomato won the West Coast's premier Tomato Contest 2 YEARS IN A ROW strictly judged by taste, sight unseen. The awesome Pineapple heirloom tomato.