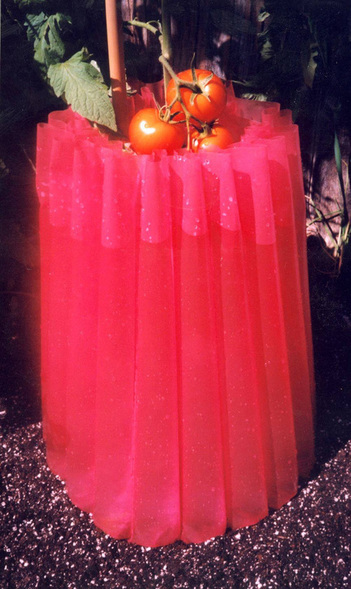 Water Teepees, Cages, 'Famous' Fertilizers and Supplies


We have just a few of the famous Tomato Machine cages now available - 7 foot tall and strong enough to climb on! Use it with an Earthtainer and put it in the sunniest spot on your property and get ready to brag to all of your neighbors. - $69.95TOMATO CAGES
We got tired of having those regular cages bend and break our huge tomato plants inside....so, we had these made to OUR specs. Very heavy duty structure AND they can fold flat for storage AND they stack vertically for those monster Sungolds and Moskvichs. 4 ft tall: $18; 5 ft. tall $22.00
Our FAMOUS FERTILIZER
This is the fertilizer WE use on our plants and it's from an old family recipe...of course all natural and no chemicals. It gives the plants all of the minerals and micro-nutrients they need to give you the best flavored produce you can grow! $2/and $4.
Soluble powdered seaweed: the "now" fertilizer 1-1-16
Researchers can't say enough good things about Ascophyllum nodosum, the seaweed we package in a convenient powder form for you to add to water to boost the vigor of everything you grow: fruit and vegetable crops, flowers, lawn, houseplants. Winners in tomato-growing contests and strawberry and raspberry growers have credited seaweed for their successful crops. We use it everywhere regularly--on flower beds, shrubbery and vegetable crops--to produce a lush yard that has won many awards and has been featured on a national TV gardening show. The value of Ascophyllum nodosum in every facet of plant growth prompted Clemson University researcher, Dr. T. L. Senn. to write a book on the subject: "Seaweed and Plant Growth." PACKAGE OF DRIED SEAWEED CONCENTRATE (one ounce) makes four quarts of liquid concentrate. Use this concentrate to produce 250 quarts of usable fertilizer or spray.
$8.00
MINI-GREENHOUSES WITH WALLS OF WATER THAT STORE HEAT AND SPEED UP GROWTH...
KOZY-COATS are your fail-safe way to produce your earliest-ever tomatoes, regardless of the weather! The secret is in the 3 gallons of water you pour into the plastic tubes surrounding each plant. Water stores heat and transfers it to the plant as temperatures fall. By putting the KOZY-COAT in the garden early to heat the cold (or frozen) soil, gardeners can plant tomatoes (peppers, cukes, melons, dahlias, etc.) six weeks earlier than usual! And they'll pick ripe tomatoes way before their neighbours! Even if there's heavy frost for days at a time the KOZY-COAT becomes an igloo, keeping the warmth of the soil around the plant! Seeing is believing! Easy to use! Be first on your block with ripe tomatoes!
Advantages of new red-tinted KOZY-COATS:
Scientific research has shown that red-enhanced plants grow stockier and produce heavier yields. Besides that, these advanced KOZY-COATS are made with tougher, easier to handle plastic with a lip at the top that allows gardeners to fill the tubes with water more quickly. We're truly impressed by their long-term reliability and durability. Kick at them and they bounce right back! Click on the link below for set-up instructions and pictures. The tubes are 18 inches high. $5.00 each or 3 for $14.00
Kozy Coat Set-up Page
Kozy Coat Repair Tubes:
Place a repair tube in the column which has a hole in it and your teepee will stand straight again! $4 for 10
---
HIGH-YIELD TOMATO MULCH
For bigger tomato crops and healthier plants!
You'll be surprised at how much more vigorously your tomatoes grow when you surround your plants in this red plastic mulch. Research shows that red reflected on to plants "fools" them into believing they're overcrowded, and hence grow more vigorously. University tests have shown a 20 to 30 per cent increase in tomato production. USDA tests have shown crops increase by up to 46 per cent. You'll notice that red-hued tomatoes produce thicker stalks than those grown in the normal way. In addition, surrounding your tomatoes in the red mulch will prevent weed growth, will conserve moisture around your plants and will help prevent blights caused when soil-borne spores splash on the to leaves of your plants.

HIGH-YIELD TOMATO MULCH: 3' x 25' $12 for use if you haven't planted your plants yet; 1.5' x 25' $8 for use with already planted plants (run down both sides of your row of plants).


---