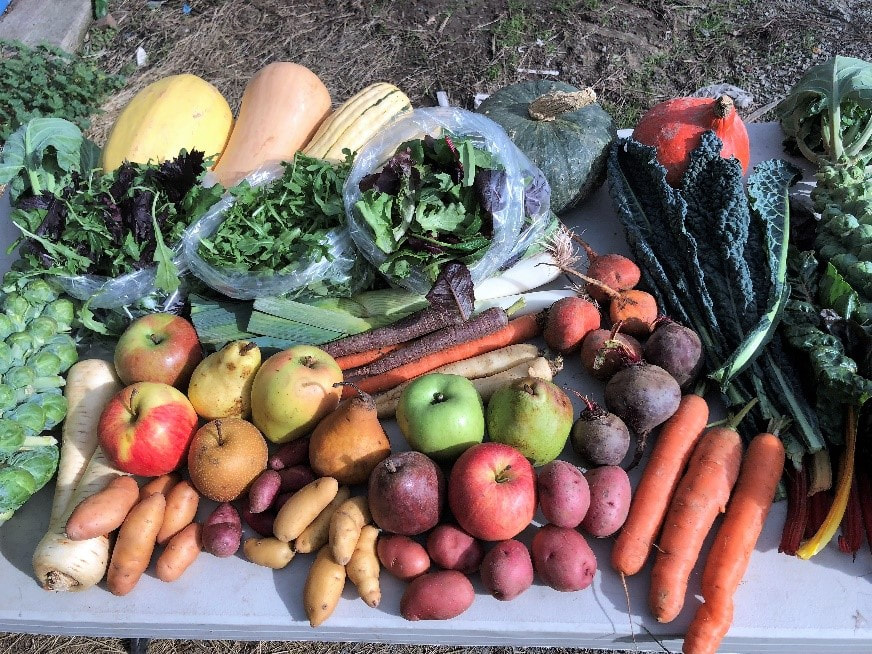 MILLENNIUM FARMS' 2018 U-CHOOSE PICK SIX WEEKLY PRODUCE PROGRAM / CSA -SUSTAINABLY GROWN - NO CHEMICALS OR GMO!2018 Fall Weekly Produce Programs
New members can enter up until the last week of the session with cost pro-rated!
Fall Shares are getting full, so reserve your weekly produce share now!
Our 23rd Season! Fall (9/12-12/18), 15 weeks.
YOU CHOOSE WHAT'S IN YOUR BAG(S), via weekly emailed list of approx. 20-35 freshest items that week.
Full Memberships (usually 2 adults) are for 6 choices weekly; Plus members (3 or more) get 12 weekly; Half members (singles) get 6 every other week.
Each choice averages at least $5 worth of sustainably-grown, mostly heirloom produce – and restaurant quality! Bank choices for future weeks too.
Our famous Chicken Eggs and Poulet Rouge meat chickens also available. Recipes using seasonal produce emailed too.
Pick-up Locations throughout Clark County.
Fall Choices include:
Heirloom Tomatoes and Peppers – many, many types!​
Heirloom apples and pears: Gala, Sonata, Newtown Pippin and Rome apples, Bosc, Anjou, Red Anjou and Asian Hosui pears
up to 6 types of heirloom potatoes, including Russian Banana, French and Magic Molly fingerlings, and Early Red and Yukon Golds
root vegetables including Nantes carrots, Rainbow carrots, Red and Golden beets, Parsnips and Rutabagas
Brussels Sprouts!
Wonderful heirloom winter squash: Acorn, Butternut, Delicata, Kabocha, Red Kuri, and Spaghetti
baby Mesclun greens, baby Spinach, baby Arugula, Spicy mix, Dinosaur Kale, Rainbow Chard
4 ounces of fresh herbs, either a mix of three rotting kinds or 4 ounces of one herb
Fall Full Shares are
$420,
Plus shares (12 weekly choices)
are $780, and
Half shares (6 choices every other week)
are $260.
FOR FURTHER INFORMATION OR SIGN-UP FORM EMAIL US AT mfarms@comcast.net .
We look forward to sharing great, fresh, local food with you !
ABOUT MILLENNIUM FARMS
Millennium Farms is a family farm in the Ridgefield area and has been growing seasonal greens, vegetables and fruit for families, restaurants and institutions for over 23 years. It is owned and operated by Michael and Missy Stucky and their family. Michael's family have centuries of growing experience, as he comes from a long line of Mennonite farmers.
Millennium Farms has always used sustainable growing practices, uses no chemical sprays or fertilizers, and will never use GMO seed
.