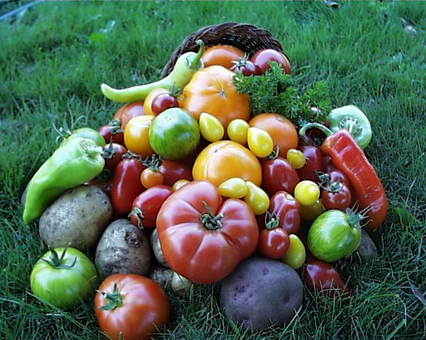 MILLENNIUM FARMS' 2016 PICK SIX WINTER CSA - NO CHEMICALS OR GMO!
Millennium Farms' 2015/16 Winter Pick Six CSA began on Tuesday, December 29, 2015 and continues for 14 consecutive weeks until March 29, 2016. Weekly Choice Lists are emailed to each subscriber to determine which 6 (or 12 for Full Shares) items they'd like to receive that week. The program offers prepaid subscriptions for Full Shares, Plus Shares and Half Shares. Full Shares, typically for a family of two, will receive in excess of $30 selection of fresh seasonal greens, vegetables, fruit and herbs weekly. Plus Shares will be double that amount weekly, appropriate for two adults and children. Half Shares, usually for singles, will be a Full Share selection but provided every other week for a total of 7 deliveries. Eggs from our own pastured hens are one of the choices in the CSA. New Members are able to enter the CSA at anytime up to Week 14. All deliveries will be made to your designated pick-up point: we currently have three locations in Clark County. You are responsible for picking up your Share, as any shares not picked-up will be given to the Food Bank.

ABOUT MILLENNIUM FARMS
Millennium Farms has been growing seasonal greens, vegetables and fruit for 20 years for families, restaurants and institutions. It is a small family farm in the Ridgefield area, north of Vancouver, WA, owned and operated by Michael and Missy Stucky and their family. Michael's family have centuries of growing experience, as he comes from a long line of Mennonite farmers. Notably, his great-grandfather was one of 10 Mennonite farmers to bring the very first hard red winter wheat to the U.S. in 1874, the grain type from which most of our bread is baked. Millennium Farms has always used sustainable growing practices, use no chemical sprays or fertilizers, and will never use GMO seed – in fact a majority of what they provide comes from heirloom varieties. They also have operated a nursery for 20 years, offering many of the same plant starts they use for themselves in the field.
CSA SUBSCRIPTION PRICES

Full share - $325.00 Plus Share - $650 Half Share - $170.00 (3% added for debit/credit cards) or send ck; later entries are charged prorate.